The Plain Dealer reporter,Dennis Manoloff, interviewed 2013 World Series winning manager, John Farrell, for a baseball article that offers significant lessons and insights into great leadership.  The article is titled "Boston Red Sox manager John Farrell credits Cleveland Indians and makes good on a promise."
Below is an analysis of John Farrell excerpts from the article.
JOHN FARRELL: "Baseball is a very difficult game to play, especially at the highest level. Having played it, what I've always tried to keep in mind is: Players are doing their best. So when they struggle, it's important to show some compassion. But I also know – and I learned this my first day as pitching coach under Tito – that players want some form of direction. They want to know where the boundaries are. Finding that balance isn't too difficult if you're open and honest from the start."
In sports and business, expectations for player and employee performance need to be clear with concise goals.  Some employee needs include:
Being supported if they do well or struggle

Know that management believes in them

Understand the path (roles, rules and responsibilities) to take to be successful

Be dealt with honestly and truthfully – no surprises about performance

Having a shared purpose – to win.
JOHN FARRELL: "I'm a firm believer in inclusion. If you don't invite that inclusion – from players and coaches — then you limit their ownership of a given situation. In this position, I can't just be a good listener; I've got to be a great listener. I'd be shortsighted if I didn't encourage feedback. And in my experience, even when the door is open, players won't abuse the privilege. They've got more important things to do than hang with the manager."
There are conversations that people (managers and employees) do not want to have due to their apprehension or anxiety about having the conversation.  They see the reasons why a dialog is going to go wrong and simply avoid it until the pain of not having the dialogue is greater than having it.
Trust is lost when there is conflict avoidance.  It creates drama, a loss of productivity, diminished energy to goal achievement and a loss of a shared purpose that inevitably affects the bottom line.  Open door policies are an important element to encourage communication and "tough" conversations.  It is also one of the ways a manager can control the story of what the truth is and the employee's ownership of the situation/problem.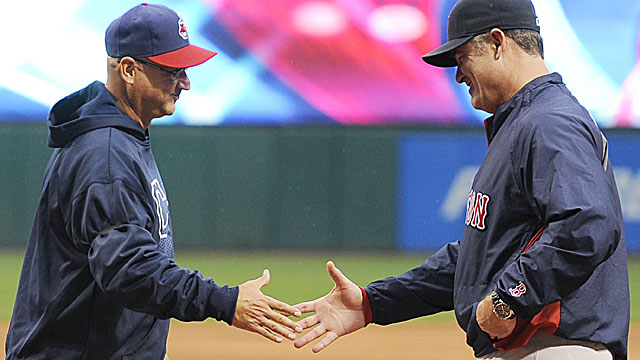 JOHN FARRELL: "Tito has such a unique ability to connect with all types of people, from clubhouse personnel to players to those in the front office. What I appreciated above all else was how he handled players directly, never in the public eye, informing them of something face to face rather than having them find out through the media."
There is a concept called Requisite Variety that is paramount to leadership.  It means that the person with the greatest repertoire of responses to deal with the greatest diversity of problems will win.  The best leaders engage with the largest diversity of people while speaking the truth about themselves and others.
JOHN FARRELL: "One of the primary strengths of this team is its ability to not take yesterday's results into today. We had a very competitive group that had a burning desire to go as far as we could. We knew the season wasn't over. And I've got to believe that the intensity of the Detroit series helped us against the Cardinals. I don't know if the World Series was a classic, but classic moments were inside of it."
Resiliency is an important ingredient of successful business.  You cannot always control the situation, but can control your attitude, approach and response to figure out how to make the situation better.
JOHN FARRELL: "Decisions will be made that are not popular. You know that going in. I felt like David (Ross) was swinging the bat better than Jarrod (Saltalamacchia) at the time and I felt like, as a team, we were responding with David and Jonny Gomes in the lineup – even if it might go against the numbers. I thought those two guys gave us an intangible and make us a better team, for three games, against St. Louis, in the World Series. Not over the course of the season, but at that moment."
Numbers are crucial details that need to be used as a part of the decisions making process.  However, not every decision is about the numbers.  Sometimes, you have to be willing to change course and go beyond the numbers to win.
JOHN FARRELL: "(On winning the World Series) I'm not sure there ever was a time when nobody was around. I don't think I left the ballpark until 3:30 a.m. It was surreal. So many things flashed through my mind – from the first day of camp to the final out of the World Series. I thought about how so many people had given so much of themselves to achieve the ultimate goal."
I've never seen a baseball coach pitch or catch a ball.  It is the players on the team that are the engine that drives success.  Recognition, appreciation, and humility are critical to creating followership.
JOHN FARRELL: "(On managing second baseman, Dustin Pedroia)  An honor. He's one of the most driven people I've ever been around, regardless of profession. He would be successful at anything he does because of how much he prepares and how much he cares. You see the passion and energy with which he plays, and it's incredible. You can't teach it, you can't fake it. And only one thing matters to him: winning. Everybody feeds off that."
Are key employees modeling the behaviors you want in the company?  Do they bring a contagious passion and energy for everyone to feed off of?
JOHN FARRELL: "(Regarding Jason Kipnis)  I don't know Jason Kipnis that well, but I know enough of him to recognize he's a very good player who has a similar style: all-out. On every team, you're looking for that one guy to lead by example, give of himself and put the team goals ahead of individual goals."
Who are the key people that lead by example in your company?
JOHN FARRELL: "(How Farrell felt about being the Indians farm director)  Awesome. We had so many good people. Mark Shapiro held us accountable; he told us we needed to better the situation for everyone we were responsible for. Looking back, it's incredibly rewarding to see how many guys from the Cleveland farm systems in those days have had success in the majors. Not just as players – as coaches, trainers, front-office executives. When the Red Sox played the Indians in the 2007 ALCS, it had a strange feel in part because of how many players on the Cleveland roster had spent at least some time in the system. The '07 Indians were a testament to a lot of great baseball people — Mark Shapiro, Chris Antonetti, guys like that — in the organization."
What looks like laziness is often a lack of clarity or understanding of what the goal is and how to achieve it. Many times, to change a result you have to change the circumstance or situation that a person is in.
JOHN FARRELL: "(Was he surprised by Terry Francona's success) Not one bit, because he gets the most out of his players. They are his focus. And he has such a good understanding of how the game is played."
Lots to learn from leaders like Francona and Farrell!
Click HERE to read the full article that appeared in The Cleveland Plain Dealer.